Hi everyone,
Yesterday I managed to cut myself on the metal shelving in members' storage. I ran my hand along a sharp edge on the underside of the shelf (by accident) and ended up having three stitches to keep the wound closed.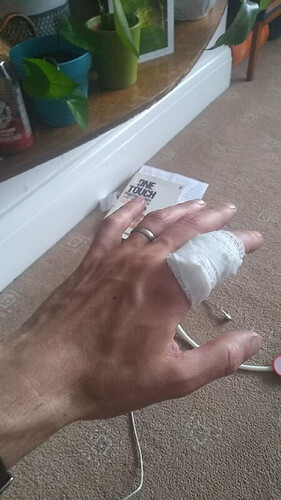 Thanks very much to Joe who helped me out with a bandage at the scene.
This was a freak accident, but it has raised some good talking points on Telegram about safety, accidents, and how we prevent and handle them.
We have bought some protective plastic edging strip, which we will be applying to the shelves. We also realised the need for an accident log book, so that is on the way as well.
It's important that whenever any of us notices hazards and risks in the space, that we report them and discuss how to mitigate those risks. Safety is EVERYONE'S responsibility. It's not possible for every member to know about the risks of every tool, process, or piece of infrastructure, so if you do see something, call it out. Even better — suggest and implement a solution.
You can expect an email soon explaining things in more detail, including what to do when an accident or injury occurs.
Feel free to ask any questions on here or on Telegram.