Hi all,
There's been a lot of chatter in the Visual Arts telegram about the new Singer that has been introduced to the space, which should be capable of sewing thicker materials & leather.
Whilst folks are familiarising themselves with and setting it up, there are some formal questions to work through before the Singer can be considered operable and open for members' use.
Photo of the Singer (from telegram):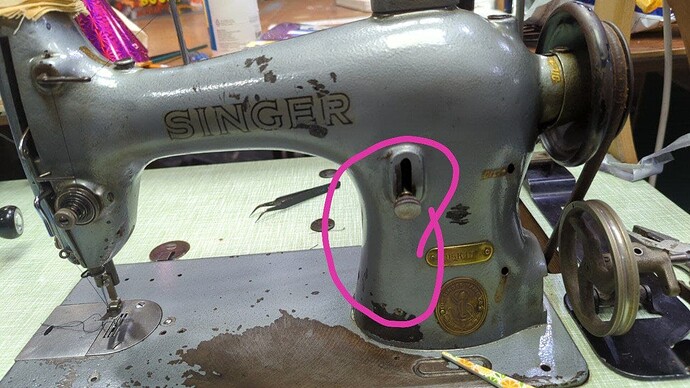 I don't know if we have a formal commissioning process, but I've put together following checklist based upon questions raised in the Telegram chat, and from information that's required when adding a piece of equipment to the Membership system.
General
Do we know any information about this machine?

Manufacturer: Singer
Model: 95K40
Serial number?
Any manuals or guides we can note in our docs?

Is the machine in good working order?

Yes
Health and Safety
Does the existing Sewing Machine risk assessment apply to this machine, or do we need to draft a separate risk assessment?
Do we require any Personal Protective Equipment to use this machine?

No explicit PPE required, but general guidance applies of tying up hair, avoiding loose clothes, and keeping workspace tidy.

Does the machine need any safety equipment adding to it (either first-party or modifications)?

Important not to restrict the actual working end of the machine
May be worth some sort of guard on the rear / right side of the machine (from the operator's perspective), to minimise risks re: other work that may be going-on in visual arts

Where should this machine be within the Space?

(Outstanding. May be worth a wider re-org of Visual Arts)
Training and maintenance
Does this machine have any unique characteristics / functions that need noting during training?

Yes: Threading, fitting the bobbin, general safety checks.

Should this fall under the same "Sewing Machine" training, or require separate training?

If fall under the same, this would mean we're happy with existing sewing machine inductees using this machine with no additional training or guidance.

Separate training. General sewing machine training should be completed first.

Are there any maintenance notes or guides required for this machine?

Yes. Roughly the same as point 7. Could do with documentation on these.

(point 10 never existed due to original formatting issues)
Costs
Should we charge for inductions on this machine?

Out of scope for this discussion

Should we charge for usage of this machine?

Out of scope for this discussion
Commissioning
Once we have answers to the above, we'll invite the board to approve?
---
This checklist & questions can evolve through the course of the discussion, of course. Once we make any final decisions/answers for certain questions, I intend to lift them into this main post for clarity.
(I'll post my opinions separately.)