Hello.
Thanks to (then new) member Laurence, we have a large guillotine in the back metal room. It has a blade about 94cm suitable for cutting sheets of thin metal, plastic, card, and hardboard.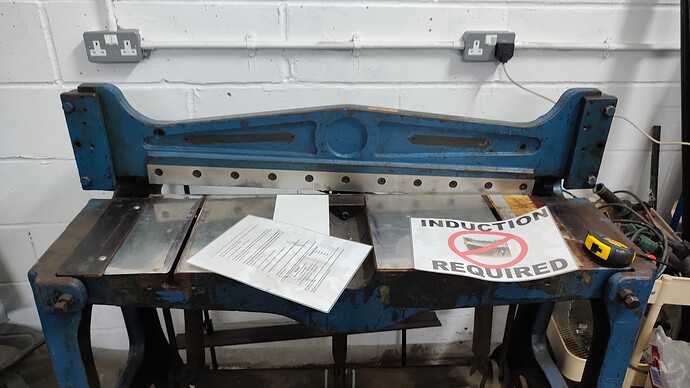 Laurence kindly produced an instruction sheet, but the tool still needs a few things sorting before it can be put in general use:
Risk assessment
Additional safety features
Online training quiz
Final home for the tool
Risk assessment: I have been researching risks and have found this assessment from the Irish Health and Safety Executive, which I plan to borrow for our tool.
Safety features: The risk assessment has revealed (to me) the need for a guard in front of the blade and a safety lock to prevent unauthorised use. I bought a sheet of polycarbonate for a guard a few months ago and plan to fit it using the holes already drilled in the machine's frame. The polycarbonate is very flimsy, so I plan to stiffen it with some steel angle I found in the rubbish pile.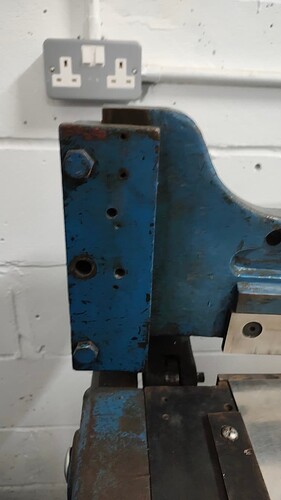 There as talk about installing a simple wooden block that can be locked in the guillotine's mouth to stop it being used. If anyone has any bright ideas, please shout!
Online quiz: The existing quizzes for the circular saw and grinder seem to be working well, so I will follow that format based on Laurence's user guide.
Location: This isn't just a metal tool, so I was thinking it could live in the main area where more people can see and use it. The guillotine can take up about 5ft of space (both depth wise and width wise) depending on material being cut. The tool is on wheels, so it can be stored closer to a wall. If anyone has opinions on a good location, please make them heard.
ACTIONS
Mike to carry out steps above. Any other members to voice opinions in this thread.