It's been a couple months of hard work by the membership in building a comunity bio lab
Special Thanks to:
Ray for help with painting and removing the HVAC
Cameron for helping with the HVAC system
Chris for donating lab gear
Cat for help with cleaning out the cave
Jo for naming the lab.
After feedback from the board thorough it be best to clarify the information.
after get
Current Status
the lab as it stands is classed as a kitchen and ristricts work to this white list of substances
known food safe substance thier know safe derivatives these include

culinary Fungi
lacto ferments
alcohol ferment
koji ferment
kombucha
Vingers
Miso and Peaso
Shoyu
Garum
Black Fruits and veg

fruit and vegetables
meats bellow 30°C and above 42°C
domesticated yeast
nonpoisonous none hazardous domestic plants and seeds
domestic chemicals examples such as

bleach
isopropanol alcohol
domestically available food additives such as sodium citrate and citric acid

inert non hazardous materials such as

Salt
plastic
heat proof glass
this does not include
non-pathogenic strains of E. coli, Bacillus subtilis, and Saccharomyces cerevisiae
live animals
drugs
baned substances such as

psilocybin
psychoactive substances
class ABC drugs

banned organisms

the plant family Cannabaceae and its derivatives
human / animal / plant pathogenic
Prions
virus's
psychoactive compound producing fungi / animals / plants
poisonous plants

human derived product's such as

saliva
fluids
solids
dont make me list them all please
this does restrict us to protocals what can be done in a kitchen for the time being.
this means the practice, of biosafety under BSL1 Conditions as as described in the lab safety handbook located in the lab.
handdling of waste is to be strilzed with bleach and isopropanol alcohol
current projects
currently isolated and growing culinary mushrooms for consumption at the park space opening day.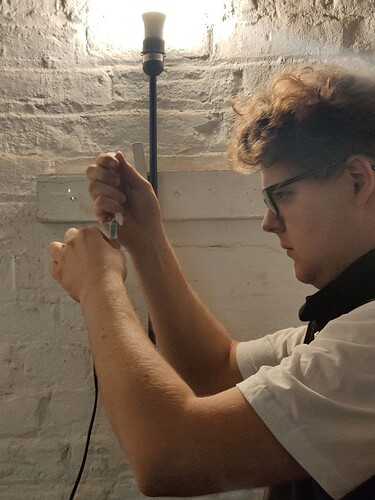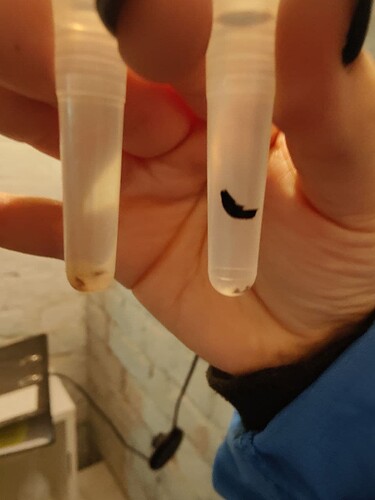 planning to do some alcohol ferments search as fruit wine and maybe grow a couple plants such as arugula, spinich for stir frying.
training
To strike a balance of stafety for members and access to of use, I have consulted professionally and received the advice of a period of 4 weeks supervised lab by a successfully trained member before unsupervised may happen.
equitment training will take place durring these supervised sesstions by the required trainers and exstra time will need to be alloted to allow this
defining a weeks's lab use:
at least 1 visit to the lab in that current week for a minimum off 2 hours not including break or a single run of a protocal. ie spore exstraction.
current unsupervised members
Alex bennett
current supervised members
Grayson 1 week completed
Ray 1 week completed need to check if completed 2nd week
health and safety
a health and safety manual has been provided for membership to utilize, please reffer to its guidence and your common sence when within the lab.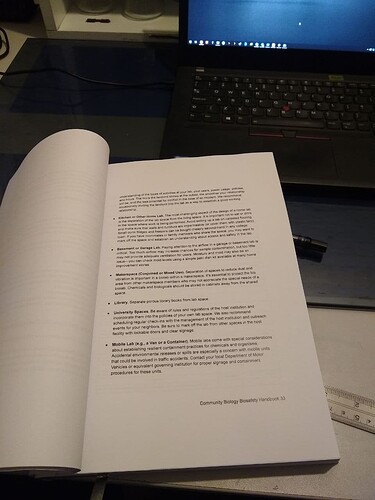 storage
locked storage is currently provided for sensitive lab equipment and supplies for members to use. As of yet unsupervised means of access to the cabinet has not been made available need to get a codded key cabinet.
the board have been provided a copy of these keys
Documention
all activities within the boundary of the lab are to be recorded in the lab notebook and to follow the bellow schema
always write in pen
strike out mistakes with single line
date and authored
clearly formated
tape supplement material with masking tape not glue
review your work afer finishing
signed by a unsupervisor member or a supervisor.
going forward
classes
i wish to provide classes in the lab and to colabrate with other spaces in the shareing of knowloage and resorces to bring larger projects to members that would otherwise be locked off to a unveristy
funding
as of current the lab as been funded for cunsumabled between the space and myself with donations from the membership. i am aware that running a lab will requier additional funding for consumables and equipment, and need to discuse with the membership with what people want to do similar to welding at weldy grindy
pressure cooker sterilisation
the board have requested before pressure cooker is brought into the space A risk assessment and full documentation is provided this has been fulfilled and is awaiting approval.
Ecoli handdling
handdling of non-pathogenic strains of E. coli, Bacillus subtilis, and Saccharomyces cerevisiae will need a GMO1 forms HSE GMO contained use premises notification CU1 2014.
Adequate equipment including sutable sterilisation capablilllity
Genetics
to handdle plasmids and to pratice Genetically modifcation will need to prodived the below paper work
for the United Kingdom
● Regulation of GMOs is based on the The Genetically Modified Organisms (Contained
Use) Regulations 2014 and is overseen by the Health and Safety Executive (HSE).
● Detailed guidelines are laid out in the Scientific Advisory Committee on Genetic
Modification (SACGM) Compendium of Guidance.
● All community labs conducting work with GM organisms will need to notify the HSE,
which involves completing a form, risk assessment, and paying a fee. There may be
exceptions if you only plan to transform lab strain bacteria with very well-characterised
reporter genes, e.g., GFP; in this case we suggest contacting the HSE for further guidance.
qualification
looking into what it would take to have membership be able to take exams and be provided with industry recognisable qualifications. ? for thier projects and time in the lab