There's been some discussion recently about getting a manual metal milling machine for the space. I think this would be very useful personally.
I'll ask for this to be made a wiki post if possible so that others can edit it.
I've tried to combine all the bits of info we've had on telegram so far onto this post so it doesn't get lost.
Ideally we'd like a DRO (Digital Read Out) on the device
A bench sized mill, or one that comes in two parts (cabinet underneath) would be easier to get through the door
A manual mill to start with, we can worry about CNC attachments later on.
Not a fancy drilling machine, but a proper mill.
Size Issues
One thing to consider with 2nd hand machine is the overall size.
The typical height of a firedoor is around 1981mm or 1.9m
A lot of the larger milling machines on ebay tend to be around 2.1 meters high
I think in some cases you can loosen the bolts on the front of the turret to get the turret to swing down
but with older bridgeports you have to be careful not to strip gears if twisting the head more than 15 degrees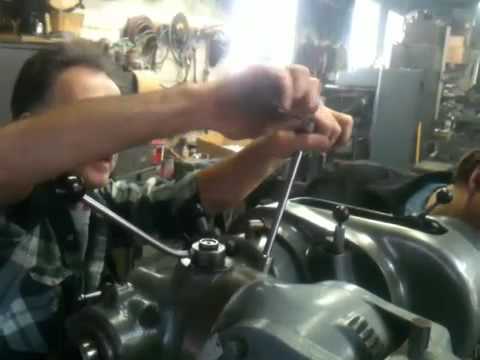 One idea might be to temporarily store the machine just outside the lift entrance area on the ground floor (this is on the other side of the elevator doors from the hackspace)
if we still have access to that area.
I think it was originally padlocked off with a code which we might still have (unless it's been changed)
Then use that as a way of disassembling the machine for transport into the space.
Bench Mills
for this reason a smaller bench style mill may be better for fitting through the door
these I think come in two parts
A Base which is a sort of cabinet / container.
The main top unit which needs to be lifted on top of the base
We have some steel scafolding, supports bars and planks that I brought in for painting the ceiling. I've also got a block and tackle at home I was planning on bringing in anyway at some point
so we might be able to use this to get the top unit onto the top of the base
Delivery
Delivery is an important consideration with the weights involved.
I think for new devices they typically charge around £100 for the delivery.
For a 2nd hand machine depending on it's size renting vehicle large enough is one thing to think about.
The slingsby we have can lift around 2.5tons / 2500Kg
Pledge Run
I think we can only spend around £500 of the £1000 on a new mill.
So we'd have to do a pledge run to make up the difference.
Hackspace Fund £500
Garlicbread / Richard. £380
Mike - £150
Stephen - £250
Bob - £50
Mark - £50
Total - £1380