Please read the below before casting your vote. The results of this poll are not binding one way or another.
Are you in support of moving over to a topics based telegram group? (if no please leave comments explaining)
A recent update to telegram provided a new feature to have 'Topics' within one group chat. This makes it more similar in style to Discord. You enter the Manchester Hackspace Telegram group and are presented with sub-chats to chose from.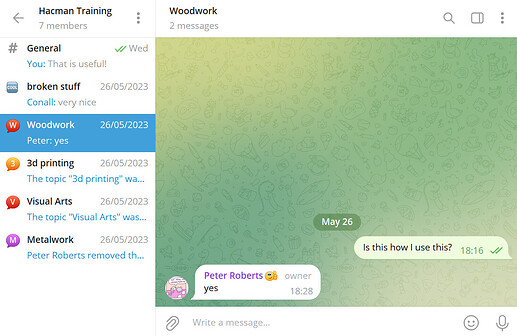 I'd like to propose we move away from our current system of having lots of completely separate group chats, and instead turn the main group chat into a topic divided group chat. The group chat that get replaced can be archived, so all chat history is still available, but no one can comment.
Pros:
The current network of chats is streamlined for the everyday user. We will no longer need to point every new member to the pinned post of different topics.

It is easier to mute all notifications from Manchester Hackspace when you want some away time. You can mute the one chat, rather than having to navigate 10 different chats muting each one.

Less group chats clogging up your telegram! They'll all appear under one banner.

This doesn't stop us making any new chats separately of course where they are needed, it just streamlines our core conversations.

Easier for the admins. When admins change, they just get changed on this one group rather than on all the separate ones we have now.

Makes it easier to ban users from Hackspace conversations - currently we would have to go through each and every group chat banning the person. If they make a new account, we have to do it all again.

Each topic has its own pinned posts, photos, etc. just like before.

Makes the boundaries of different areas less finite. E.g. you don't have to join a new group chat to see what conversations are being had around the space, in metalwork for example.

Removes the stress of trying to keep up with all the conversations. Topics you don't visit frequently will automatically sort lower down your topic list when you enter the group chat.
Cons:
Chat history from other group chats will not be present in this chat, but will be available in other chats.

Change tends to come with temporary teething issues.
---
As above, I'd suggest we convert the current HacManchester Group chat.
I'd suggest we set up the following Topics as a start point:
Announcements
General & Help
Chit-chat (incorporates clutter exchange)
Woodwork
CNC
Metalwork
3D Printing
Visual Arts
Electronics
Bikespace
Games Night
Open Evening Tour Guides
Hack the Space Day/Meetings
I am genuinely struggling to see downsides to doing this, other than the one time faff of moving over. Please do comment if you have reasoning against.
Cheers,
Joe