Welcome new members!
When you register, you have the option of:
Collecting your keyfob, or
Having it posted
This is the section on the signup form: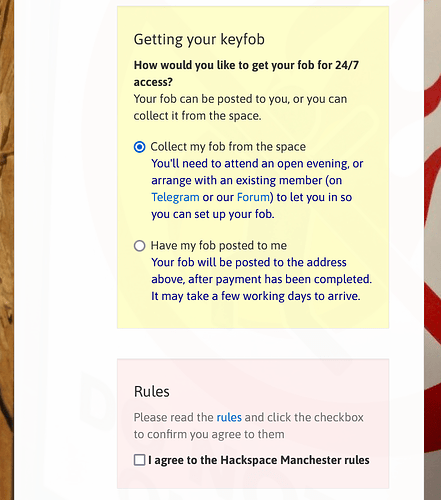 ---
Collecting
To collect your fob you'll need to be let into the space. This can be done by either aranging with an existing member to let you in (shout out in Telegram) or attending an open evening.
When at the space
The space has a registration desk, right as you come in. On it is a Raspberry Pi PC, and a leaflet holder with welcome flyers and small packs. In each pack is a keyfob, with a label of it's associated ID.
You then need to enter this ID into the membership system, exactly the same as people with postal fobs. The door will then automatically update after five minutes.
Posting
One of our members (currently me) posts fobs out to people who choose to have them posted. It may take a few working days. If it's quicker to show up to an open evening, you may wish to collect your fob.
Once you get your fob, easy instructions are on the flyer on how to enter the fob ID into your membership system account. The door will then automatically update after five minutes.
Changing your mind
If you've selected postal fob, but wish to collect don't worry - I often check if a user has added a fob before posting them one, but if I miss it and you've already collected a fob, and you can deposit the posted fob when you next show up, along with the flyer, into the leaflet holder on the registration desk.
If you've selected collection fob but now want it posted you'll need to ask in Telegram, or by posting below. I'll then check your user account to make sure payment has been set up, and I'll post you one.
many thanks