Hi all,
Over time, the offcut storage area has become a dumping ground and this kind of practice will encourage the notion that we shouldn't have offcut storage at all; if you can bring a piece if wood to the space then you can also remove your offcuts from the space.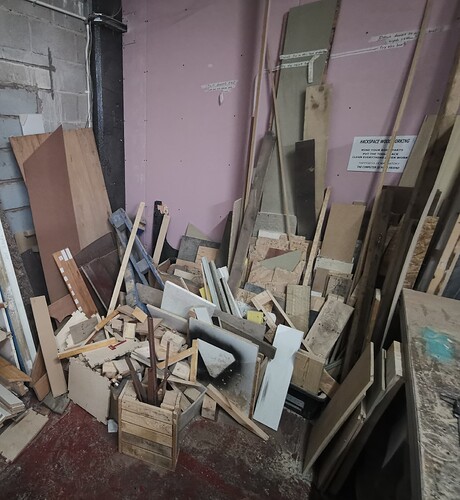 This isn't a route I'd like to go down, as I see offcut storage as an incredibly useful resource for so many that use the space. That said, if you are unable to add your offcuts in an orderly manner leaving all pieces partially visible and hiding none, then please take them home.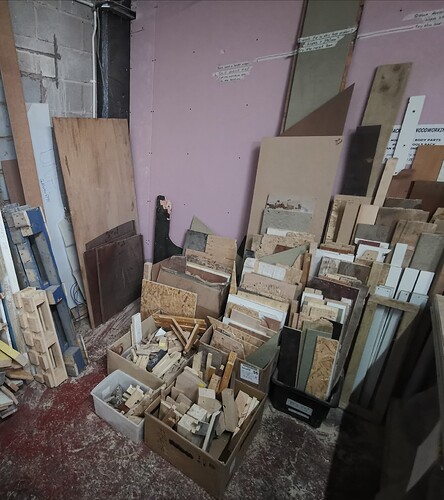 Storing the wood in this way means that the height, width, thickness and type of wood can be seen at a glance and this is true for every single piece. This means that the offcuts are more likely to get used which in turn means we need less offcut storage and/or need to make fewer trips to the tip. It's also a safer way to store the wood. The current setup has a box of shorter offcuts in front of the taller offcuts. This should provide enough weight to prevent pieces at the back from falling forward, but as always, safety comes first and this will require constant monitoring. If anyone has any concerns, I'd encourage you to raise them as soon as you notice them.
And finally, there are some pieces which a) don't store well and b) probably hold less value to others, and these should be taken home or disposed of outside of the space. Multiple pieces that are screwed or glued together should be separated or not stored at all.
Thanks,
Frank.