Introduction
As of the end of the second national lock down venues such as community centres and libraries have been exempt from closure as seen highlighted below. I believe that the Hackspace falls within this classification and, going forward the current guidelines should be amended to allow the workshop to be more accessible to its members.
source https://www.gov.uk/guidance/tier-3-very-high-alert
Tiered Restrictions
In accordance with the above, I believe that members should be able to access the Hackspace at all tiers of restriction since they are providing voluntary services to its members and as such the Rule of Six should not apply, however in accordance with Manchester being in Tier Three restriction, members will still need to follow Covid Secure workplace guidelines (see below)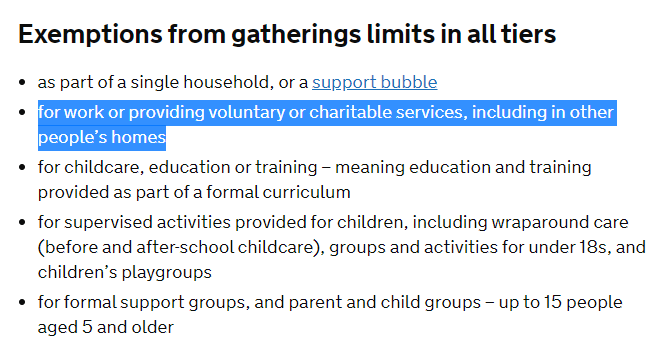 source https://www.gov.uk/guidance/local-restriction-tiers-what-you-need-to-know#very-high-alert
tier 3 specific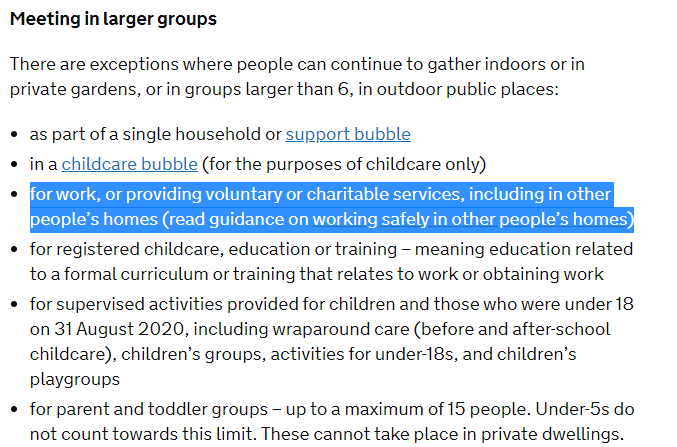 source https://www.gov.uk/guidance/local-restriction-tiers-what-you-need-to-know#very-high-alert
Proposed Changes to Hacman's Covid Workplace Guidelines
Key Points
The current rule limiting use of the Hackspace is not based on current government guidance
The single household policy limits the tools that members can use, effectively prohibiting the use of the tools which require the presence of more than one member, for safety reasons, for any member who cannot be accompanied by another member of their household or social bubble
The single household policy leads to a lonely and miserable working environment
I believe that the current Covid alert system should be amended to reflect current government guidance.
I believe that the booking system should be improved to better reflect all areas of the space and allow members to access the workshop in a more flexible manner.
I would like to propose a system which would enable members to move freely around the space in a way which would not impact the members' freedom, whilst keeping different households apart in accordance with government guidance on workshop environments as seen below.
source
https://www.hacman.org.uk/covid-19-information/
source
https://www.gov.uk/guidance/working-safely-during-coronavirus-covid-19/factories-plants-and-warehouses#factories-7-1
Proposed Changes to Hacman's Covid Alert System
The diagram below shows changes I would propose to the Covid Alert System, so as not to limit use of the Space to one household or bubble at a time.
Proposed Changes to Hacman's Equipment Booking
I believe that the current booking system is flawed since it does not cover all of the ways that the Hackspace is used, such as sitting at a table in the main area or using the table in the Visual Arts Area. As such, I would propose a change to the current system of booking an area in the Space rather than a single item, and as such allowing Hackspace Members from more than one household or bubble to be in the workshop at the same time.
In order to reduce the likelihood of mixing at the egress I would suggest we implement a staggered booking system which I believe would prevent members mixing in the space than the Hackspace than each areas can safely support.
Proposed Changes to the Hackspace to Prevent Households Mixing
Following a study of the Hackspace and the popularity of each area I would suggest a change to the way people travel around the Space, which would limit each area to one household per booking slot. To do this I propose that the areas be separated with walls or temporary barriers with only a single point of egress for each. I have two options for marking out each single household area outlined beneath the next diagram, supported by Aldi's traffic light system for entry into their stores.
Option One:
We could clearly differentiate each area of the space with a block colour signature and obvious floor markings which indicate that only a single household or bubble can occupy that area at any one time, and clear signage at the main egress point of the space to inform/remind members of the changes and how to follow them.
Option Two:
Alternately we could install a system which automatically indicates whether or not each area is occupied and thus whether or not members are able to enter each area.
criteria
cheap to install
respect the privacy of members
work by design rather than by enforcement
allow for freedom of travel with the space.
simple
accessible
something that is not going to go wrong all the time and be a pain in peoples side.
easy to follow.
case study Aldi's signage
Aldi installed a traffic light based signage system to prevent people from queuing at their stores earlier this year and has been praised for its simplicity and effectiveness
"The traffic light system was initially trialled in just 10 of Aldi's stores and having proved successful, the crowd-control system is now being rolled out nationwide in their 874 UK stores this week. "
source
https://metro.co.uk/2020/05/26/what-aldis-new-traffic-light-system-how-work-12758838/?ito=cbshare
My Proposed Solution
I would propose the use of PIR motion detectors, coupled with hall effect switches on each door to detect whether or not people are on either side and to determine the direction of travel.
This would be handled by a micro-controller with simple logic to power a traffic light display on each side of the door.
A benefit of this is system is that it limits contact between members in already proven way.
works automatically without member input and maintains the privacy members in the space.
In order to gain an estimated total cost I purchased components for a single door from Rapid Electronics; the price of which was fifteen pounds. the remaining parts such as wire and led's, micro controllers the space has in adequate stock.
lego simulation
To demonstrate how this system would operate I have provided a number of simulations using Lego.
Scenario 1: Woody Dusty is occupied and a second member enters the Space.
Under this system the newcomer can enter the Space as the common area is empty
The signage outside Wood Dusty warns the newcomer to wait outside by flashing orange.

Scenario 2: There are members in the common area and Wood Dusty, and the member is Wood Dusty is waiting to leave the area.
Both areas are at maximum capacity so the member in Wood Dusty cannot leave

Scenario 3: Members are in Wood Dusty and the Common Area, the member in the common area enters Visual Arts and the member in Wood Dusty can now leave.
can now exit wood dusy into common area
Visual Arts is now at maximum capacity however Weldy Grindy is free.
The member in Visual Arts is told to wait as the Common Area is occupied
Scenario 4: The member in the Common Area has not moved to a new area.
Wood Dusty is now free to enter
However the person in Visual Arts cannot leave since the Common Area is full.