Proposal Type:
Small
Proposer:
Joe Christian
Description:
I've been putting together a little list of bits and bobs for the woodshop for the past few weeks so here goes:
Bluetooth amplifier - Ebay - £22.29
This will replace the big 80s one i brought in that broke after not too long. We already have the speakers in the room so hopefully it will be a quick install. This one has bluetooth built in so i won't need to bodge it again.
Spring clamps (6 pack) x2 - Screwfix - £7.99 x2
These are really useful when gluing bits and bobs up to hold things for a short while. Having four of each size will be useful.
12 Chunky woodwork pencils x2 - Amazon - £5.44 x 2
We've got through the last supply we bought 7 months ago. Proposing we buy another years supply.
30cm combination square x 2 - Screwfix - £5.99 x2
These are really handy for marking out right angles and 45 degrees. I'm proposing below to create three 'measuring and marking' shadow boards, so these will go on them.
Replacement shopvac filter catridge - Ebay - £12.99

Bought and dropped off at space - RJ
The existing filter seems to be missing and it would be good to replace it before the unit dies.
Green gaffa tape for marking woody items woody - Ebay - £4.20
Small boxes- The Range - £2.99
The spindle sander has a few different rubber tubes, sanding tubes, base plates, washers, a spanner etc. that are likely to go missing if not stored directly next to the unit. I'd propose we had a box to store this stuff in right next to the unit labelled 'spindle sander parts'. We also have quite an over flowing cutlery tray that could do with being organised into a couple of boxes. So i'd propose we get one more marked 'other measuring tools'
Proposed Installation:
These items are all additions/repairs to existing items. I am happy to fit them myself, but would be even happier if someone wishes to volunteer.
I'd also like to propose making three 'measuring and marking' shadow boards. These would look roughly like the below and be made with 12mm plywood. One would be at either end of the long side bench and the third mounted by the smaller work bench. For this i'd like to allow £25 for materials (plywood and hooks). Many of the items are already on the consumables list so don't form part of this proposal.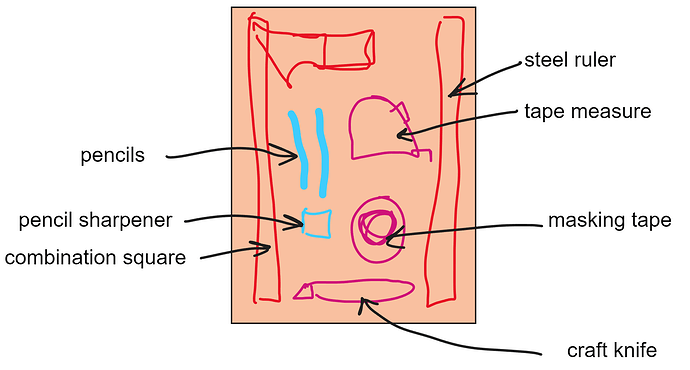 Budget:
£84.30 + ~£25 for shadow board materials
Funding type:
Fully funded by Hackspace
Health & Safety
No new risks
---
Supporters
Small Proposal < £150 - 2 Board Members and 5 Members
Supporting Board Members:
Joe Christian
Dominique Tink
Supporting Members:
Rob J
Ed B
Nathan K
Mike H
Richard