Hi Guys,
I Have sent an email to Fablab, so will wait and see
MCC have had a turn of direction, we are now designing shipping containers, we have decided to sack landlords and design our own space. Our 1st one arrives next week and we are changing it into a music studio, sponsored by MOSI so we should hopefully be able to pull it off.
I am telling you this too see what you guys think about the idea of designed shipping containers, my business partner Ben is really keen to have some techie ones and i like the idea of a tech space in a redesigned container or two, it would be good promotion for you guys and they are pretty versatile.
Plus you can move them,
We have quite a few ideas and obviously we want help with the project, and we would love HACman to be involved
Ben is quite happy to come to the next meeting and tell you alot more specifics about the design and his thoughts on where he sees it progressing so give me a shout if you are interested
muchas ta
JaneyFrom: Richard Smedley richard@sc.lug.org.uk
Subject: Re: [HACMan] Re: Fabrication services
To: hacman@googlegroups.com
Date: Wednesday, 24 February, 2010, 10:03
janey riley wrote:
i know of at least 4 of us from MCC that are interested in having a nosy hmm leave it with me
+1 for visit

– http://www.goodgnus.org/2010/02/so-what-am-i-up-to/
– You received this message because you are subscribed to the Google Groups "HACMan" group.
To post to this group, send an email to hacman@googlegroups.com.
To unsubscribe from this group, send email to hacman+unsubscribe@googlegroups.com.
For more options, visit this group at http://groups.google.com/group/hacman?hl=en-GB.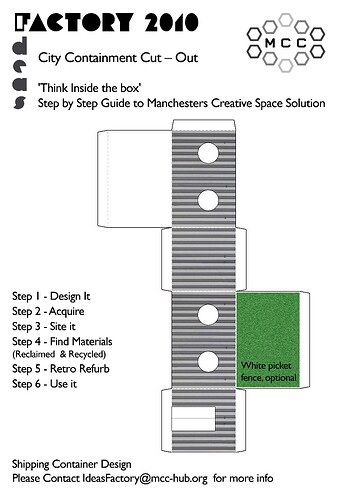 Thinking inside the box.pdf (115 KB)