Proposal Type:
Small
Proposer:
Frank Hall for the Main Space
Description:
The plan is to build a big drawer under the Stage that can take a lot of big infrastructure items, thereby freeing up the space they occupy currently and making these items more accessible. The draw would be 1.2m wide, 4m long and roughly 40cm high. It would slide along the floor on 3 packs of transfer bearings:
https://www.amazon.co.uk/MASUNN-Diameter-Transfer-Bearing-Conveyor/dp/B07T9ZPGQC/
£10.90 x 3 = £32.70
It would be made from 3 sheets of 18mm plywood. Touch Wood often have reclaimed 8x4 sheets of ply at a fraction of the price of mainstream builders merchants - the price will vary slightly depending on the grade and condition but is expected to be between £20-35 per board.
A pack of mending plates will be used to join the wood together, routered flush to preserve the flatness:
Pack of 10 for £1.99
A wide handle will be made using offcuts in Woody. When pulling on the handle, the load will be directed along the length of the sides of the drawer.
Installation
A good time to build and install the drawer would be at the next Hack-the-space day. The space under the stage will need to be cleared out, sorted and then can potentially go straight into the drawer.
The location is as follows. This alcove can have other installations/equipment present (there was talk of potentially putting 3D printers here) so long as the bottom 45cm from ground level up was left clear.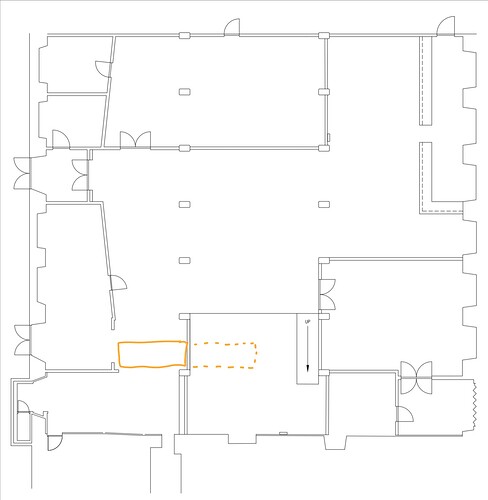 Funding type:
Fully funded by Hackspace
Max:£150
---
Supporters
Micro Proposal <£50 - 2 Board Members and 2 Members
Small Proposal < £150 - 2 Board Members and 5 Members
Medium Proposal < £500 - Majority of Board Members and 10 general members
Large Proposal > £500 - consult the board before gathering membership support, a strict board majority must be achieved. Large proposals can only be approved at members meetings with majority support from the members present. Proxy votes can be used.
Supporting Board Members:
x Frank
x
Supporting Members: (delete number as appropriate)