To try and move the welding room forward, we are inviting input and discussion of the room layout.
Current thinking revolves around having two extraction hoods (local exhaust ventilation (LEV)) and one or more welding bays segregated by welding curtain is required.
There is also talk of moving the current entry wall of the welding room (where the single door is) further towards the lift. In effect, this means that passing through the double doors my the milling machine would put you into the (much larger) welding space.
Below are some layouts that @Marcus6275 has put together. The metalworking team will be voting on a final design on 19 January, so please provide any comments by then.
Discussion of a topic like this is best on here, but we are also available on Telegram for simpler questions/comments.
Welding idea_mark.pdf (13.7 KB)
Welding layout Ideas_Mark.pdf (23.7 KB)
Welding&Lift.pdf (10.5 KB)
On Telegram, @Omniatus has already commented:
"In reference to the above, and considering keeping a duct run to a straight a line as possible, this would probably be the better of the two proposals, duct marked in blue. Gives us two welding bays/areas, and keeps everything out of the way, plus, I believe the back wall, bottom, is brick, so lowest flammability risk."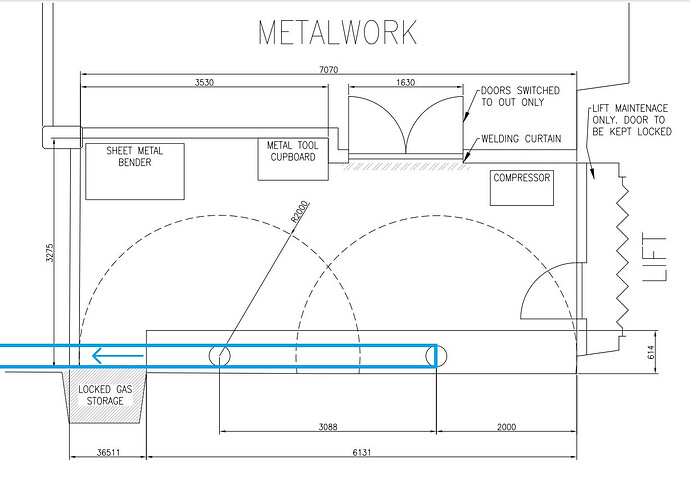 Note: The flexible extraction arms only have a 1500mm reach, not 2,000mm as depicted